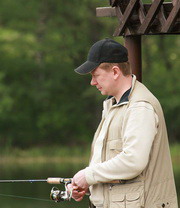 Eugene Starostin

Founder, owner and CTO
Hello!
If you are reading this, then let me know what you were expecting to see here. :-) Ok, my name is Eugene E. Starostin. I consider myself primarily a Win32 programmer, although I do a significant amount of .NET work depending on our projects. My technical specialties include software architecture, project management and Microsoft Office integration.
Add-in Express Ltd.
I am the author of the first version of Add-in Express. However, now you will not be able to find a single line of my code in the current versions and editions of Add-in Express. I have got bored with coding, so now I'm running this blog. I do not quite understand why, but hopefully I have succeeded in it, if you are reading this :-) Also, I have some great ideas for the future.
My technical skills
Platforms: .NET, Win32
Programming Languages: C++, C#, VB.NET, Delphi, VB6, VBA
DBMS: MS SQL Server from 7 to 2005
Application Servers: MS Exchange, MS ISA Server, MS IIS, MS SharePoint
Other: programming for Microsoft Office, Extended MAPI
As you can see I am a Microsoft-oriented programmer. This does not seem to be much in favour now. May be that's why I also go in for fishing. :-) Besides, I am an aficionado of World and Russian history, Bulgakov, Bunin, Chekhov (Russian writers), Dire Straits (and Mark Knopfler's Shangri-La too), Pink Floyd, Joe Cocker, Erik Clapton, pretty women, and more.
Here is a list of my recent posts: