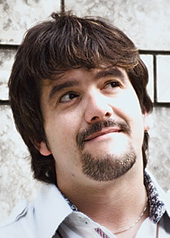 Eric Legault

Add-in Express Technical Evangelist
Greetings fellow Office Developers!
My name is Eric Legault, and I am the Add-in Express Technical Evangelist - one of the newer additions to the Add-in Express team (and the only Canadian, based out of Winnipeg). I have also been a Microsoft Most Valuable Professional (MVP) for Outlook (development specifically) since 2003, and I also hold a couple of Microsoft certifications (MCDBA, MCTS - SharePoint) in addition to a B.A. (Psychology).
For most of the past 15 years I've worked independently and with various Microsoft Certified Partners and ISVs building solutions based on Microsoft's Messaging & Collaboration platform (Outlook/Exchange, SharePoint and Office). I've also dabbled in writing, contributing articles for MSDN, Microsoft Office Online, Windows IT Pro magazine and other technology e-newsletters, and have edited books on Outlook 2007 programming, SharePoint 2007 (uncredited; long story…), Access 2007 and Access 2010. I've even done a bit of travelling, speaking about Outlook and/or SharePoint at conferences around the world, including the SharePoint & Exchange Forum in Sweden in May 2007 and September 2008, LegalIT 3.0 in Montreal (2009), SharePoint Connections in Las Vegas (2009) and Microsoft TechDays in Winnipeg (2009).
But now, my role is to support you - our developers and users of our product – and to be your ambassador and agent of change. I'll be directing and sometimes delivering the information, tools and content that you need the most to do your jobs, whether that's through blogs, white papers and articles, documentation, reference applications, videos, podcasts, Twitter or Facebook. I'll also be engaged in social media marketing and promotions, so don't forget to follow me on Twitter, and drop by Add-in Express Facebook page to say hello to myself and the rest of the Technical Evangelists (and other ADX employees you may find lurking around).
My technical skills
Platforms: Win32, .NET
Programming languages: VB.NET, C#, VB6, VBA
DBMS: MS SQL
Application servers: SharePoint, Exchange, IIS
Office object models: Outlook, Word, Excel, Access
Favorite area: Building add-ins for Outlook
Other areas: SharePoint Designer, InfoPath, CSS, XML, SQL and Redemption
Out of work occupations:
When I'm not raising my two awesome children or doting on my wife I'm either playing guitar (I've been practicing for 25 years, hoping to replace Kirk Hammett in Metallica one day…), playing my fancy drums or singing in Rock Band (all at Expert level), saving the world in various Xbox 360 games (gamertag: Goombah), circuit training at the gym, reading books on cosmology, evolution, humanism and heavy metal, or waiting for the Winnipeg Jets to come back. Music is one of my biggest passions, and although I have a preferential taste for the very loud – heavy metal and punk – I'm also a classically trained musician who enjoys opera, Baroque and chamber music.
Here is a list of my recent posts: