April 1st newsletter – Support for VisiCalc, WordStar, OpenOffice and ClosedOffice
Two days ago, that was April, 1, we sent out a newsletter (you certainly got it if you are on our mailing list) that didn't contain any valuable information at all, no features, no bug fixes, no enhancements. Just a couple of jokes and a few comments that I thought were funny enough to make our customers laugh. Why do I recur to that newsletter here and now? Because the feedback I received was just staggering! My immediate thought was: "Great, they liked it, it was not so bad as I thought…" :)
However, a few hours later another idea stuck me 'Hmm.. may be we publish wrong things here, on our blog?" What did they say in Rome? "Panem et circenses!" that is "Bread and circuses". I believe we've been giving enough bread, all those HowTo samples, 2009 version enhancements, features, betas and the like. Now it's time for circuses :)
Before you start reading that newsletter (of course if you did it already, you may skip to the end and just enjoy a couple of funny pictures), I'd like to share the events preceding with you.
April 1st newsletter prehistory
On March, 30 I sent out the following message to the Add-in Express team. I did that just because I ran out of ideas as to what to write in the newsletter.
My message to the Add-in Express Team:
Ola!
We announce the contest for the best features of Add-in Express 2010 whose official release is scheduled for April, 1.
Prize for the winner: $100 + vacuum cleaner (3 kW) with a built-in clipper for nasal hair.
Contest Jury: Me
To their credit, they gave me plenty of good ideas, which you will enjoy in a minute. To my shame, the winner was not announced and the prize was never presented :)
Well, and here is the newsletter that now I am really proud of.
April 1st newsletter:
Hi Colleague,
We've decided to postpone the release of version 2009 that we worked on during the whole last year and to publish a more powerful and enhanced version 2010.
Besides all the features for version 2009 announced earlier, version 2010 offers:
New features
Support for VisiCalc 1.x and higher, WordStar 1.x and higher, OpenOffice, ClosedOffice and VeryClosedOffice
Support for IE 9 1/2, FireFox 5 7/8
Isolation from all Office bugs, Windows quirks, developer's hands and their troubles
Support for remote debugging, deratization and decockroaching with a special bonus for bug fixing – dichlorvos
Support for satellites: Add-in Express 2010 launches its own satellite and allows injecting the developer's code into any other Earth orbiting satellite, whether it be a NASA or Iridium one
New editions
Add-in Express for Coffee Machines working on nuclear fuel
Add-in Express Magic Edition containing just one button – "create a cool Office add-in". On a button click, the Magic edition writes up a specification, searches for freelancers for its implementation, carries out testing and delivers the resulting add-in to end-users. Unfortunately, there exists just one copy of this edition, and it is not very stable so far
Add-in Express for IBM System/360 delivered at large corporations' request (shipped by FedEx on 6-spool tapes only)
New volume discounts
One who buys 50 Premium licenses at a time gets the 51st for free
One who buys 100 Premium licenses at a time gets the 101st for free and any Add-in Express developer for a month (you can choose from here)
Increased number of available packages
The most powerful package – SuperExclusivePremium includes the delivery of coffee, doughnuts, pizza and sushi directly to your office, as well as the delivery of phosphates to your spring seedbeds. We just need to know your seedbed coordinates for our guidance system (possible deviation is 5 km).
P.S. If someone needs cheap oil, write to us.
P.S.S. On unpaid loans issues – write to our partner company "Harsh Guys".
Well, I do hope it made you smile. And if you have no time to click on the links, that's Okay, you wouldn't find anything special there, just this photo of the Add-in Express team: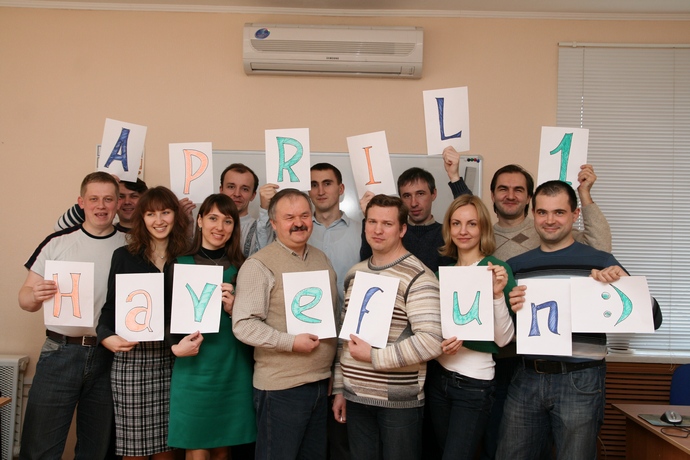 Feedback
I believe we will need a new blog, or at least a new post to publish all the feedback that my inbox was swamped with. Here are just a couple of things that made me laugh the most.
Some customers sent me the google mapped locations of their seedbeds. Well, we launched the phosphates loaded missiles :) Next day I asked them if it had hit the target. No response so far, they are probably still searching in the neighborhood. But I gave the caveat of a possible deviation, didn't I? :) Okay, at least one thing makes me happy – they are going to reap a rich harvest in Sahara this year, of course, if they won't forget to sow some grain…
A few others wanted to purchase 100 and even 1000 Premium licenses. Frankly speaking I got lost in thought for a couple of hours. May it be that some countries were not hit by the global recession, or did I underestimate the real value of our products… and developers? ;) Or, probably some of our customers have shares in the Federal Reserve System? :)
Well, I believe that's enough of that. Oh, no… I can't help telling you about one more message that provoked ding-dong arguments in our office. The customer wondered how it could be that all the women in the photo above were so "spectacularly beautiful but all the men were… well not so attractive". Well, I can assure you that Add-in Express guys are much more handsome than they look in the picture. They were just worn-out by Add-in Express 2009 Beta 2 :)
How others celebrated April Fools' Day
YouTube decided to turn things head over heels:
And here is a keyboard cushion from https://ildarka.ru/
BTW, a great idea! I am going to order a few, then my developers will not have to leave the office at all :)
And, did you know that April 1, 2009 was the 200th anniversary of Nikolai Gogol, well-know Ukrainian-born Russian humorist, dramatist, and novelist? On this occasion google.ru turned into gogol.ru for one day:)
Well, that seems to be all. If you are looking for more serious things, check out Add-in Express 2009 Beta 2 news: Drag-and-drop for Outlook regions