Outlook COM add-ins, Excel COM add-ins created with Add-in Express
Add-in Express in action
On this page you can see just a tiny fraction of Office add-ins developed with Add-in Express tools, while thousands of other smart Office COM add-ins like these were built over the last 10 years by us and our customers.
If you created your own product using Add-in Express, we will be happy to publish it on this page. Just tell us about your software and you will see it here in a day or two.
Addins for Microsoft Office based on Add-in Express:
Ultimate Suite for Excel by AbleBits.com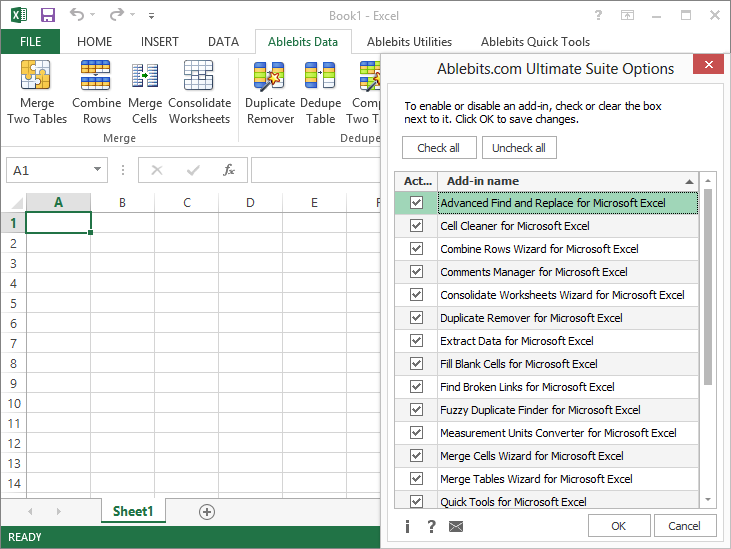 AbleBits.com Ultimate Suite for Microsoft Excel 2013 - 2003 is a complete set of tools for everyday use that includes sophisticated professional tools for data management as well as simple one-click utilities... Read more
Math Cliparts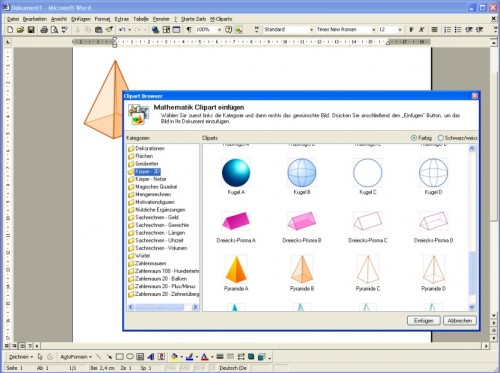 Math Cliparts is an extensive collection of cliparts for mathematic worksheets in elementary and special schools. All cliparts been designed and created by a child book designer and come in three different drawing styles... Read more
Merge Tables Wizard for Excel
Merge Tables Wizard combines two Excel worksheets into one in seconds. The add-in autodetects all matching columns and uses one or several columns as the unique identifier... Read more
Duplicate Remover for Excel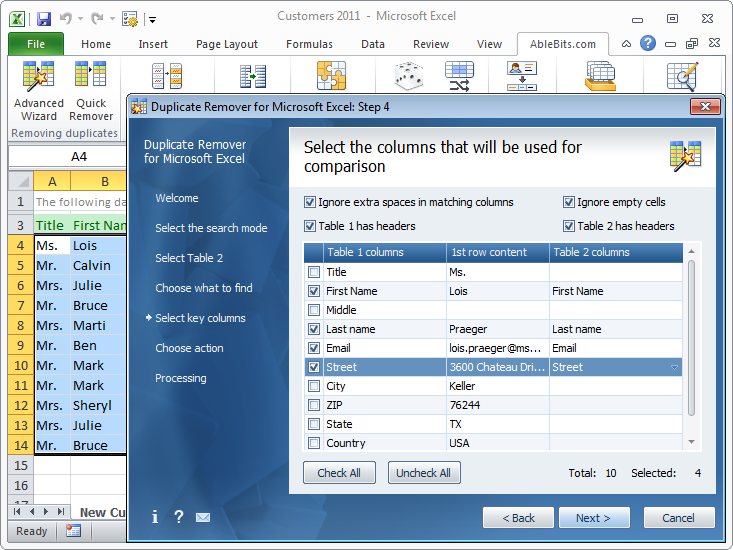 With Duplicate Remover for Microsoft Excel you can easily find and remove duplicates in one worksheet or between two lists with up to 1 million rows... Read more
GeodesiX - Geocoder, GCD, Google Maps for Excel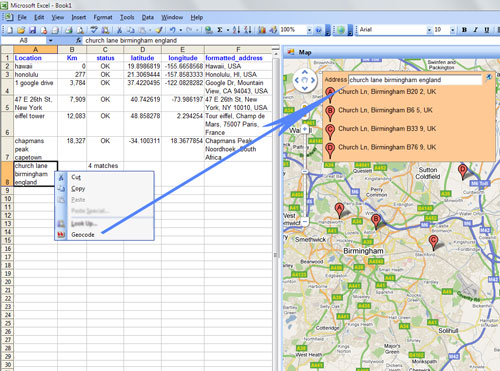 GeodesiX is an add-in for Microsoft Excel which allows you to perform forward and reverse geocoding, compute Great Circle Distances and verify your results in with Google Maps... Read more
Taglocity for Microsoft Outlook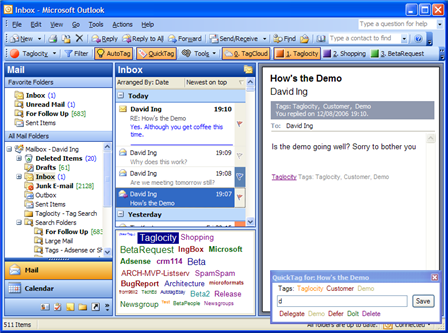 This plug-in for Microsoft Outlook allows you to tag your content from within Microsoft Outlook and in this way organize a lot of information and to communicate more clearly to others... Read more
Template Phrases for Microsoft Outlook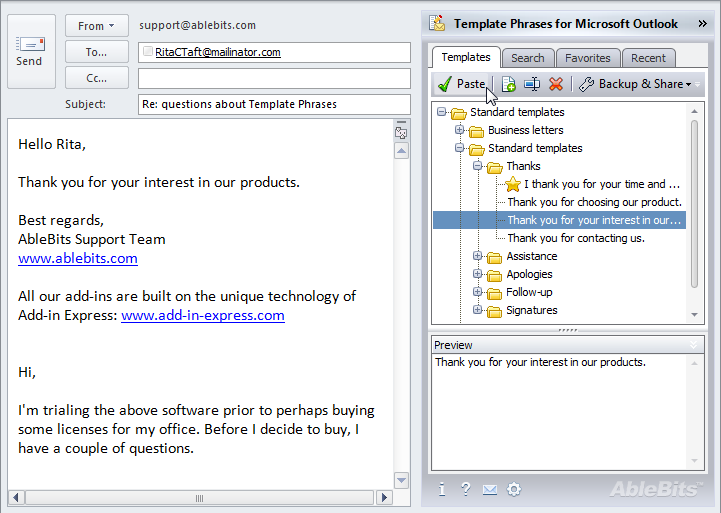 This addin allows Outlook users to reply to their emails with templates without having to type the same text over and over again... Read more
Action Project Manager for Outlook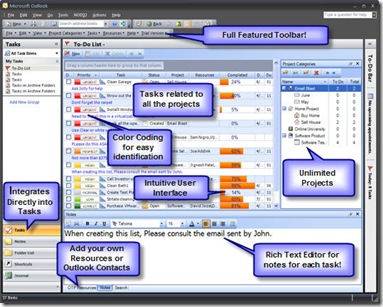 This is a unique software for project management, planning, scheduling and tracking individual tasks for small organizations and individuals. Action Project Manager is incredibly simple to use and it will help you manage your daily ToDo's with power... Read more
Consolidate Worksheets Wizard for Excel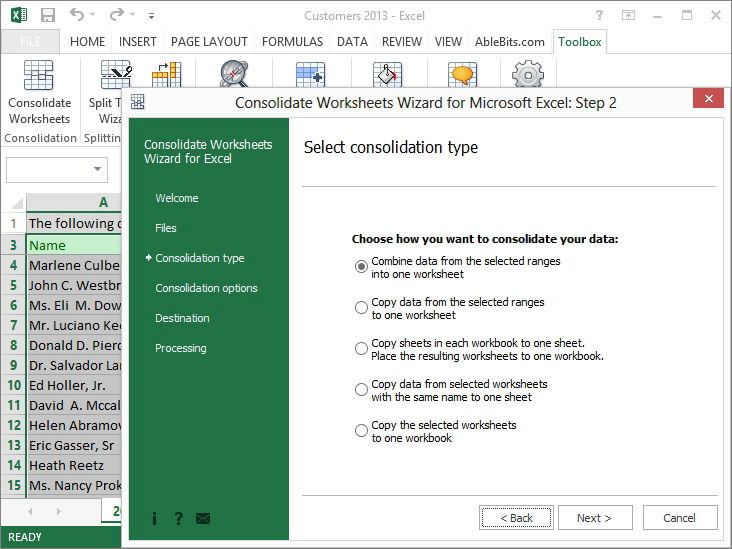 The Consolidate Worksheets Wizard for Microsoft Excel quickly merges multiple Excel worksheets into one. The wizard will help you summarize, analyze data or prepare a report by joining multiple records and creating a consolidation table... Read more
Outlook Notes for Email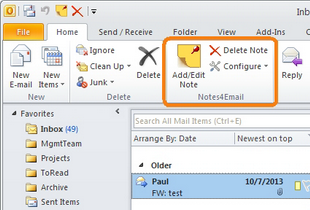 Outlook Notes for Email (Notes4Email) provides the ability to add your comments using a native Outlook note as attachment to your e-mail. For good visibility on noted e-mails it also adds an additional yellow category to the message. All Outlook attachment features are available like preview and searching whereby it doesn't require separate screenspace to display its content.... Read more
Gegprifti Add-In for Excel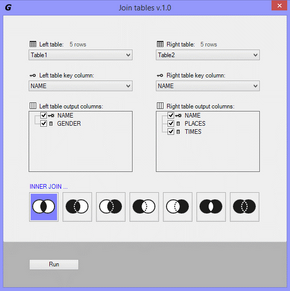 This Excel Add-in that consists of two modules. The "Join tables" module is specific in querying tables and performing results like in a database environment. And the "Get filenames from folder" module will help you write filenames in Excel cells... Read more
MissingLink Project Center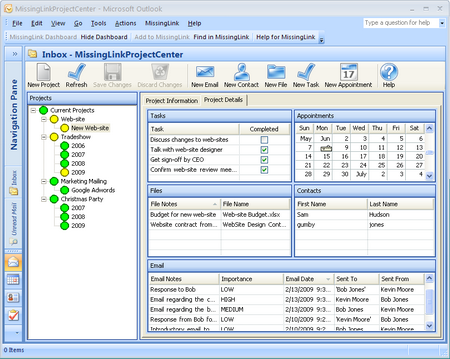 MissingLink Project Center is the easiest Project Management Software for Microsoft Outlook. It evolves Outlook beyond a simple email client into a full-fledged project management tool. All your emails, files, contacts, tasks and appointments are managed from a central location within Outlook... Read more
psoWorkflow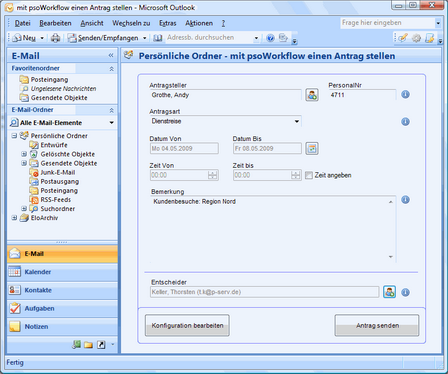 Reorganize your workflow and save time and paper. psoWorkflow offers many possibilities for applications (e.g. holiday, travel, overtime, aso.) to create, to decide and inform the applicant ... Read more
psoAbsence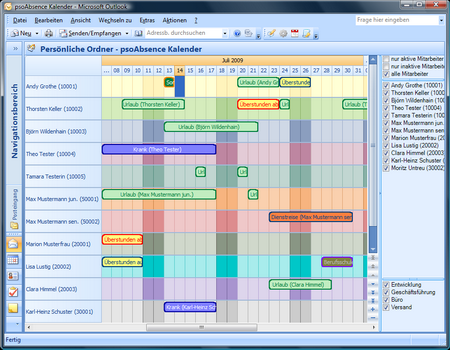 By using the programme psoAbsence you always have the survey of your employees graphically. For this purpose a singular registration of the employees is required... Read more
Project-mta for Microsoft Project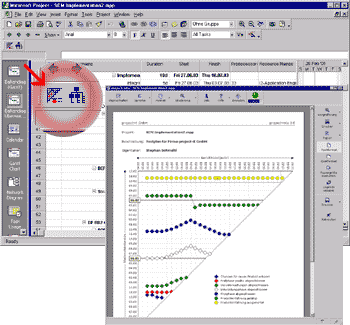 Project-mta is the ideal solution for Microsoft Project users who want to control their deadlines. Project-mta features: comparison of planned and actual milestone terms, visualization in a MTA chart, traffic lights for project and milestone status, and much more... Read more
Improved Email - Outlook Add-in for QuickBooks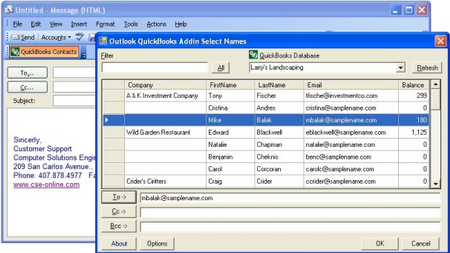 Improved Email add-in for Outlook allows you to easily send emails to your QuickBooks. You just click the new QuickBooks Contacts button from right inside of Outlook and select the contact you want... Read more
Project-psp for Microsoft Project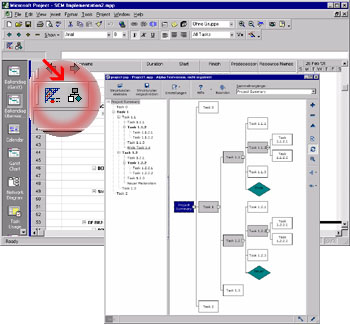 Project-psp is the ideal solution for Microsoft Project users who want to edit their projects in work breakdown structures (WBS). Project-psp features: visualization in a WBS chart, supports a transparent work and cost estimation, simplifies the project documentation, and more... Read more
GraphVizio - A Visio addin for Graphviz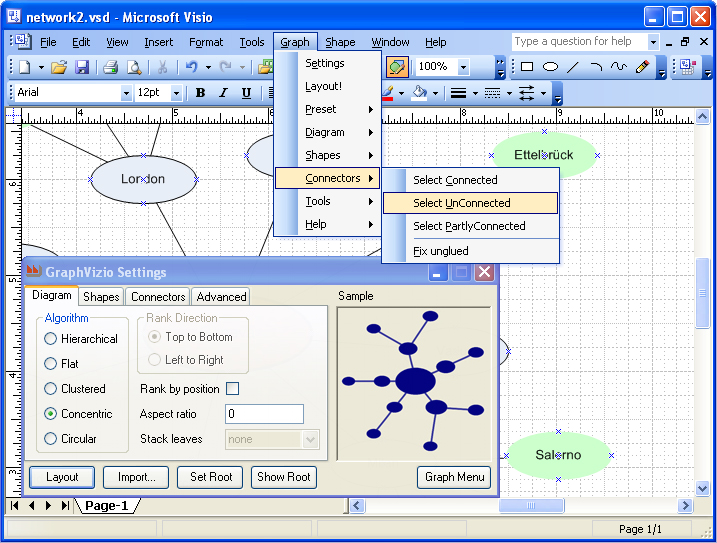 GraphVizio is an add-in for Microsoft Visio which allows you to layout Visio diagrams using the renowned Graphviz algorithms developed by AT&T research laboratories... Read more
Transform Excel to SQL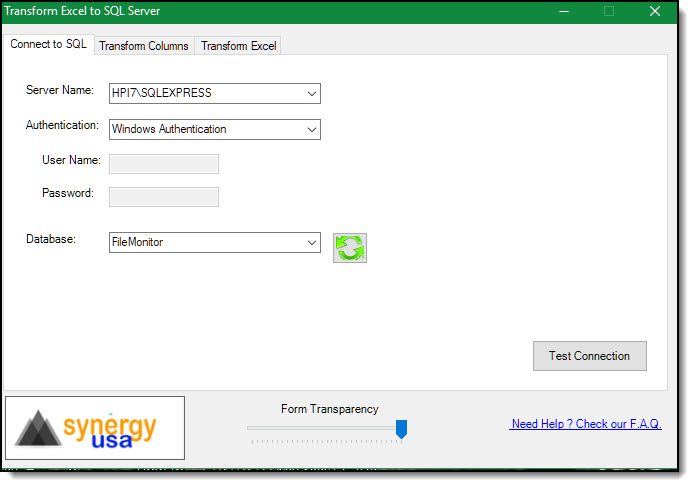 Transform Excel to SQL add-in takes the data from the columns of the Excel sheet that you want to normalize and decomposes the columns into less redundant (and smaller) ones... Read more
CMSDMS HUB Office Plugins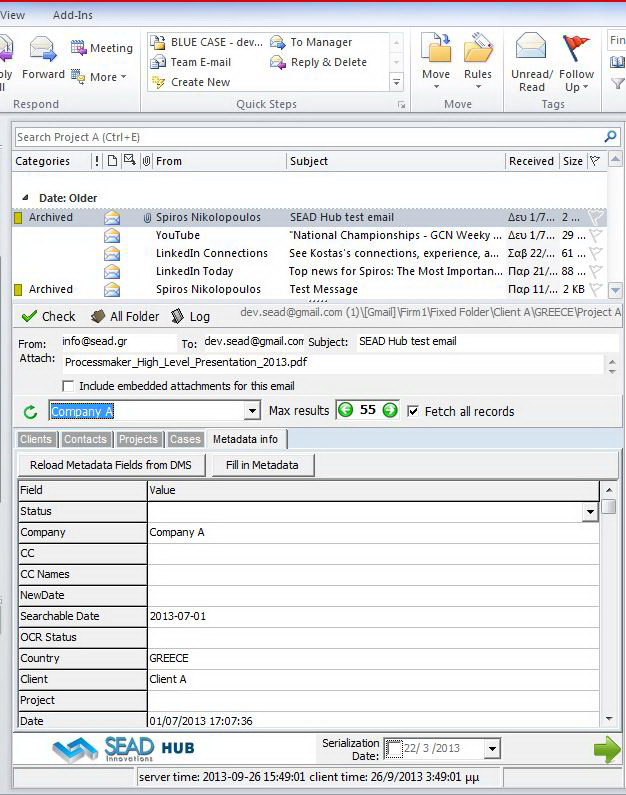 This plugin integrates the KnowledgeTree and SugarCRM functionality into Microsoft Office 2010 – 2013. Using the plugins, the user can archive any email or document from Microsoft Office into the KnowledgeTree DMS and simultaneously link the SugarCRM objects with the archived email's or documents... Read more
POBS® for PowerPoint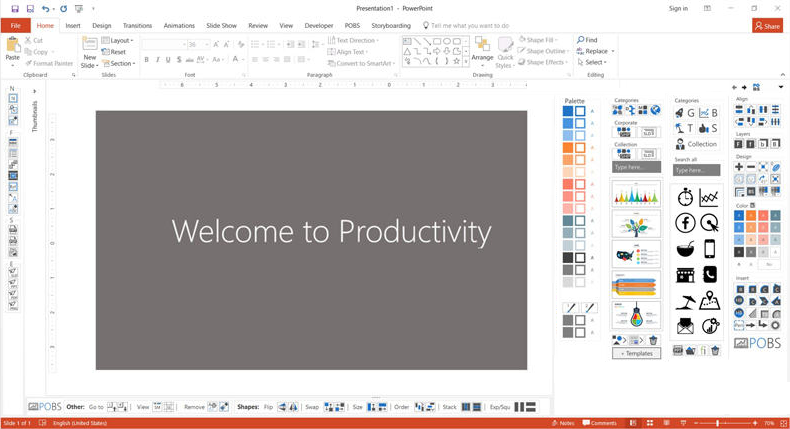 POBS® is the true user friendly Microsoft PowerPoint add-in that will allow you to access many new features and time-saving functions, revolutionizing the way you create and design presentations... Read more
Get your product listed on this page
If you already use Add-in Express and want to have your product listed on this page, we will be happy to add it. All you need to do is:
Send us a brief description of the product that you developed using any of Add-in Express tools. It could be a COM add-in for Outlook, Excel, Word, or for any other application.
Send us your success story. Here are just a few examples of what our customers say.
Tell us about your product!