Video: Implementing a custom UI for Office add-ins with ClickOnce
Posted on
Thursday, September 22nd, 2011 at 7:00 am
by
Ty Anderson
.
Sometimes I get on a roll. Currently that roll is "customizing deployment packages". Yesterday, I subjected you to a video that shows how to customize a ClickTwice deployment to include a EULA (among other things). Today, I have some ClickOnce goodness for you.
With ClickOnce, Add-in Express installs a program in the Windows Start menu that allows your users to:
Update your add-in (if updates are indeed available)
Register your add-in… which is useful if you took advantage of #3 and…
Unregister(ed) your add-in.
This little program's UI looks like this: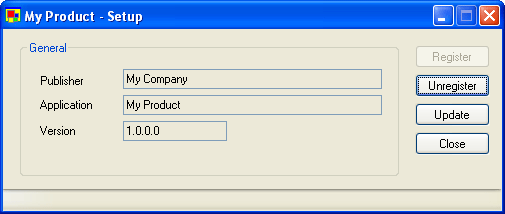 This UI is a great example of an efficient design. It does what it does and it works well for every add-in built with Add-in Express for Microsoft Office and .NET.
But what if you wanted to customize it just a little bit? Well my friend, you have options… starting with building your custom UI to replace the one above. To find out how this story ends, you will have to watch the video. I can't give everything away for free!
You may also be interested in: