Sample IE plugin with C# and VB.NET source code.
Add-on example for Internet Explorer 11 - IE6
Add-in Express Toys™ .NET
for Internet Explorer
This free sample IE plug-in (C#, VB.NET) searches across all windows and tabs of the current Internet Explorer process and highlights search results. It shows how to create, debug, register and deploy IE add-ons, develop custom toolbars, Explorer bars, main and context menu and more. The plug-in was developed with Add-in Express for Internet Explorer and .net and works with all supported versions of IE6 to IE11.
Why Add-in Express for Internet Explorer?
Based on the IE extensibility, Add-in Express provides you with an integrated solution that allows developing professional extensions for Internet Explorer with minimal coding. Add-in Express supports VB.NET, Visual C# and Managed Visual C++.
You use Add-in Express visual designers and components to:
Sample Internet Explorer add-on: Advanced Search
Note. Compiled binaries are not included in the setup package of the Add-in Express Toys. You need Add-in Express for Internet Explorer and .NET to compile this sample add-on.
With this IE plug-in you can:
Search in all open Internet Explorer windows and tabs.
Search in hidden content, e.g. in HTML code, collapsed forms, META tags, CSS-menu, etc.
Search using the "Match case" or "Whole word" options.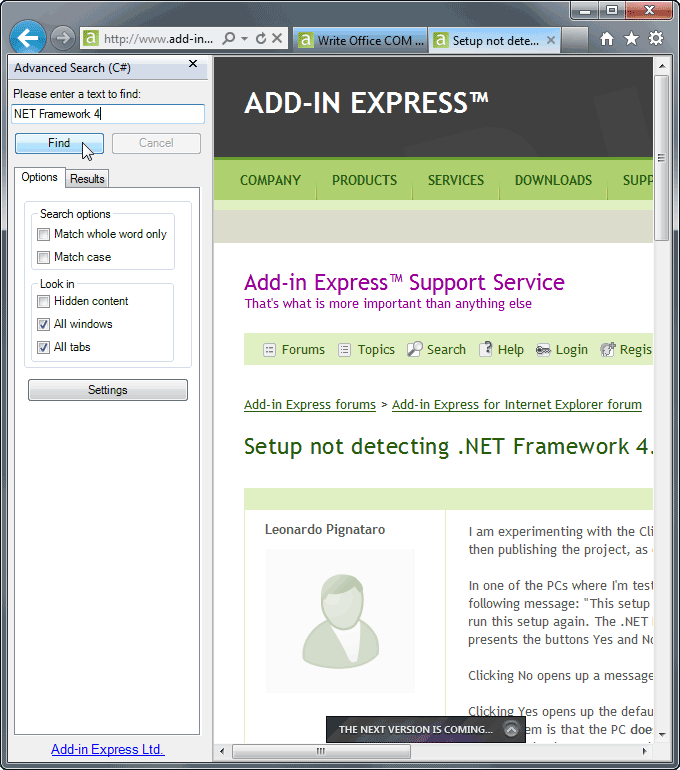 Navigate through search results by double clicking on the item in the Results tab.
Highlight search results in any color.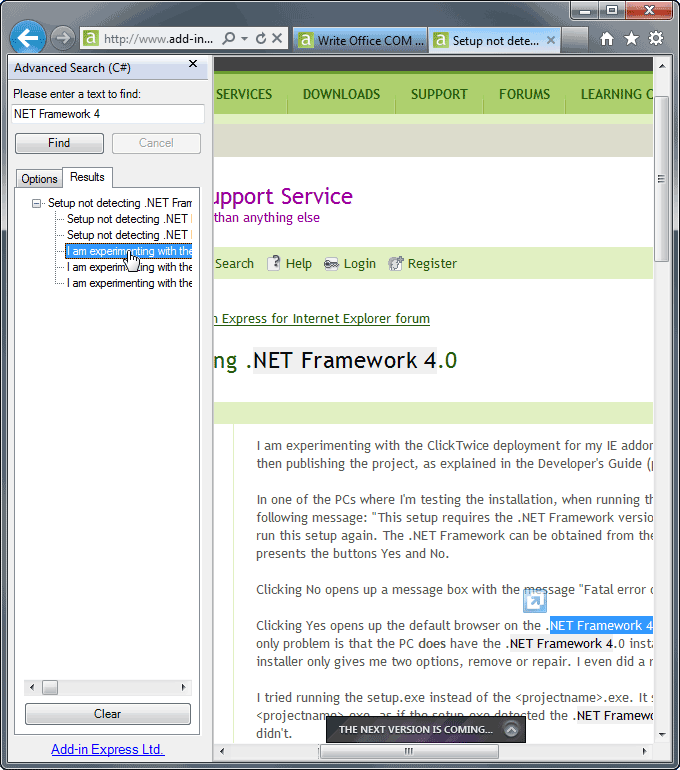 Download sample Internet Explorer plug-in in C# and VB.NET (source code)