Add-in Express team - Sergey Grischenko
Sergey Grischenko
Lead .NET developer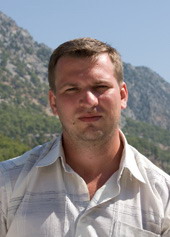 My name is Sergey Grischenko. I was born in Gomel. I received higher education in the Gomel State University, Faculty of Automated information processing systems. Since the time Andrei Smolin and Eugene Astafiev took all technical support upon themselves, I have been mostly occupied with adding new functionality to Add-in Express tools.
My hobby is powerlifting, I am a candidate for master of sports (this is a pretty high rank in our Unified Sports Classification System hierarchy).
You can find my code in the following products:
My technical skills:
Platforms: .Net Framework, Win32, Windows Mobile
Programming languages: C++, C#, VB.NET, Delphi
DBMS: MS SQL Server from 2000 to 2008
Application servers: MS Exchange, MS SharePoint
Contact Sergey now
Have any question to Sergey, want to discuss your project or get a good piece of advice? Don't hesitate to contact him right now.