Add-in Express team - Renat Tlebaldziyeu
Renat Tlebaldziyeu
Junior software engineer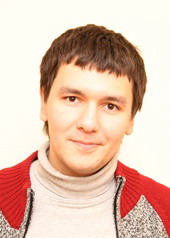 Hello, I'm Renat Tlebaldziyeu, I'm 24. Like most developers of my age I started with Pascal and C++. Since then I encountered different software development tools and trends. My current direction is .NET.
My technical skills:
Platforms: .NET
Programming languages: C#, Delphi
Databases: MS SQL Server, MySQL
Other: programming for Web, HTML, DHTML, CSS, JavaScript, Macromedia Flash, Action Script
Out of work occupations:
I spend my leisure-time with the family and friends. I am fond of music. Good and beautiful music gives comfort and cheers you up, doesn't it? I also like to draw, some abstract things in particular. This is an easy and interesting process: you just draw one line after another without even thinking and in the end you get something unusual! Oh yes, I like everything uncommon and interesting ;)
Contact Renat now
Have any question to Renat? Don't hesitate to contact him right now.