Add-in Express team - Pieter van der Westhuizen
Pieter van der Westhuizen
Add-in Express Technical Evangelist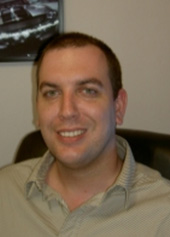 Good day folks, my name is Pieter van der Westhuizen. I am a recent addition to the Add-in Express team as their Technical Evangelist. I am also the only team member from the Southern Hemisphere (South Africa) and definitely the one with the longest surname :)
When I'm not evangelising Add-in Express products you can find me working as a freelance developer on various projects and talking crazy on my other blog www.mythicalmanmoth.com.
Being one of those fortunate enough to have his hobby become his full time profession, I look forward to sharing and discovering awesome new tools and technologies with you.
My technical skills
Languages: C#, VB.Net, VBA
Databases: MS SQL Server, Pervasive SQL, MySQL
Technologies: .NET, CSLA and mostly Microsoft products.
Out of work occupations and hobbies:
Spending time with my lovely wife and crazy harrier (the dog, not the fighter jet), reading and being a geek at heart playing a couple of computer games (... and still trying to beat my wife at Guitar Hero!)
Contact Pieter now
Have any question to Pieter? Don't hesitate to contact him right now.