Add-in Express team - Maria Azbel
Maria Azbel
Support service engineer, blogger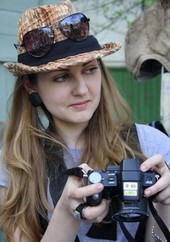 Hi everyone, my name's Maria Azbel and I'm here to update you on Ablebits events via all known social networks like Facebook, Twitter or Google+.
I graduated from the Foreign Languages Department of Gomel State University. After graduating I taught English for a number of years and could hardly believe that someday I would become a real computer buff.
Besides promoting Ablebits through social networks, the range of my tasks here is quite wide: from writing blog posts to translating and providing e-mail support. From my articles you can learn about the most recent add-ins and their new features as well as some practical tricks that can improve your work with Microsoft Office. Also I can't help mentioning that I work in a wonderful team of real pros who are absolutely amazing people.
My hobbies
In my free time I enjoy sewing, reading books, drawing and interior design.
Contact Maria now
Have any question to Maria? Don't hesitate to contact her right now.