Add-in Express team - Julia Tarasova
Julia Tarasova
Accounting manager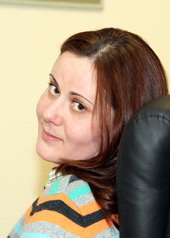 It's a shame to me but I don't know jack or squat about programming. What gets my programs to work and computing in general is a complete mystery to me. That is why for me programmers are something similar to geniuses :)
My name is Julia Tarasova and I simply keep track of money here. But, as you know this job is rather tedious (though, I could try to convince you of the opposite) and I will tell you a bit about myself. I adore reading and I read everything that I can lay my hands on – from pulp novels to historical and phonological works (until I'm bored : -). I'm captivated by the words and phrases that Gorky, Nabokov and Bulgakov managed to find to bring their thoughts to me.
I listen to absolutely different music: pop and rock, jazz and classical music. The main thing is that it reaches my soul and touches my heart. Now I'm discovering the history of my country. I like fiddling with flowers (it turned out to be a very pleasant occupation). Well, that seems to be all, I won't not distract you from your business activities any more with the story of myself. Was glad to meet you : -)
Contact Julia now
Have any question to Julia? Don't hesitate to contact her right now.