Add-in Express team - Irina Pozniakova
Irina Pozniakova
Ablebits team lead and project manager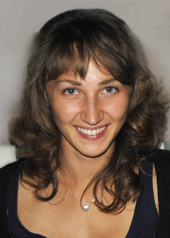 Hi! I'm Irina and most of my time I spend here thinking of new ways to make our end-users happy.
I started my education at Gomel State University and at the University of Vermont. I was introduced to software backstage when I worked at EPAM systems and later here at Add-in Express. I can say with confidence that each player on our team is a real pro at developing add-ins for Microsoft Office. You can make sure of this by trying any of our products from www.ablebits.com.
Together we brainstorm to create nice pages, help files, tours and videos and show you how capable our little assistants are. We've recently started our blog that you'll find especially helpful if you are ever an end user working with Microsoft Office applications. Now you can also find us on Facebook, Twitter and Google+ to find special offers, news digests and clever tips to make your Excels, Outlooks and Words spark on all cylinders.
I started my career at Add-in Express as a support service engineer. And I still enjoy providing support, your thanks for our products make my days! Be sure that I always pass your words on to our great team of developers. So if you have something to say – don't hesitate!
Out of work occupations:
I enjoy translating and interpreting and travelling of course. I spend my free time taking part in environmental projects with a local NPO,performing in a jazz dance group and looking for new interesting things to do!
Contact Irina now
Have any question to Irina? Don't hesitate to contact her right now.