Add-in Express team - Eugene E. Starostin
Eugene Starostin
Founder, owner and CTO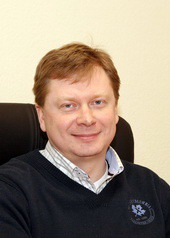 Hello Colleague!
My name is Eugene Starostin. I am the founder and CTO of the Add-in Express Company. But this is not my whole life. I am an aficionado of Bulgakov, Bunin, P. G. Wodehouse, Jerome K. Jerome. Thoughts of Eric Fromm and Stanislav Grof are close to me. I am still under the impression of Dire Straits (and Mark Knopfler's Shangri-La too), Pink Floyd and Bob Dylan music. Occasionally I have time for fishing, psychological studies, spending time at my country house and romping about with my two kids. But whatever else I could add to the list, main passion is programming (though I've been doing less and less coding in recent years) :-(
I am a Microsoft-oriented programmer
Yes, I am a Microsoft-oriented programmer (this does not seem to be in favor now; may be that's why I also go in for fishing) :-) It was I who wrote the very first version of Add-in Express for Office. A few years have passed since that time, and the development and support of extensibility-based components became the main occupation not only for me, but for the whole Add-in Express Team. However, if you think that our products as they are now were created exclusively by us, it's not right. Thousands of our colleagues and friends who use Add-in Express products around the world have been helping us. And this happens only because…
Ideas strike not only our mind, but yours as well
Believe me, as soon as you immerse into our components and savor their flavor, you will certainly find what to improve and where, what to simplify or dispose of at all. It often happens this way. And this is because…
Because we are all different :)
Different cities, countries, customs, habits, religions, and finally different cultures. We can solve our task differently, use diverse approaches and tricks. What really matters is the result. And if you, using our components obtain your result, write to us about it. Not only about what you liked and what helped you, but also about what you disliked, what caused incomprehension or even irritation. And believe me, together with our tools, you will get not only our code, but also direct communication with programmers like you, who will help you reach your goal and write your Killer Application after all (you are still hoping to write it, aren't you? :-) That is the reason why our web-site is stuck all over with those bright feedback forms. And also because...
Your successful project will make our products better
Sounds like marketing buzz? Well, in fact I was listening "You and your friends" (Dire Straits) when writing this page, and absolutely forgot... tough luck!... about marketing :-)
Contact Eugene now
Have any question to Eugene, want to discuss your project or get a good piece of advice? Don't hesitate to contact him right now.