Add-in Express team - Eugene Astafiev
Eugene Astafiev
Senior MAPI developer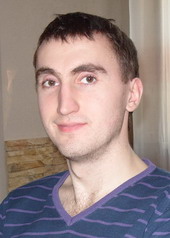 It was 1984 when I was born in Gomel (it is a former USSR city ;-). I spent all my school years in Gomel where I now continue living and working for Add-in Express. I have two higher educations:
Belarusian State University of Information Science and Radio Electronics: Computer System and Networks department (I am a mathematician-system programmer, have a Master's Degree in Information Science); 2002-2007 - Minsk
Belarusian Trade Economics University: Business Education Department (I am also an economist-manager, have a Master's Degree in Economics and Management); 2007-2010 - Gomel
It was 2006 when I came to Add-in Express for the first time. I combined my last student year with a part-time job mostly involved in researching possibilities for creating new products. In 2007 after I graduated from BSUIR I joined the Add-in Express team. Nowadays I continue working for Add-in Express mostly as a technical support engineer helping our customers with their projects. Also my current job involves a lot of programming, testing and debugging, mainly in .net. I have also tried my hand at blogging, you can find some of my articles on the Add-in Express blog. I like to learn new technologies and open new horizons for development.
You can find my code in the following products:
My technical skills
Platforms: .Net Framework, Win API, Windows Phone
Programming languages: C++, C#, VB.NET, VBA
DBMS: MS SQL Server
Application servers: MS Exchange, MS SharePoint
Technologies: WFP, WCF, XAML, LINQ
Other: programming for Microsoft Office, Internet Explorer and Extended MAPI, Microsoft Enterprise Library
To cut this list short, I specialize in the .NET platform and Windows programming. See you on our forums and at the support e-mail address ;-)
Note: Eugene does not work for the Add-in Express company any longer. This page remains for historical purposes only.
Contact Eugene now
Have any question to Eugene, want to discuss your project or get a good piece of advice? Don't hesitate to contact him right now.