Add-in Express team - Andrei Bertosh
Andrei Bertosh
Support service engineer, HowTo samples developer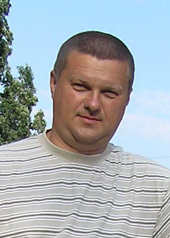 My name is Andrei Bertosh, 41 years old (it's 2010 at the moment of writing). I successfully graduated from the High Military School of Air Force in Kharkov with the diploma of electronic engineer, at that time it was the USSR and now it is the territory of Ukraine. I have been in programming for 20 years. I spent my early years in C and Assembler, after that Delphi and .NET became my main languages. For a long time I ran the software department in a bank. Now I work for Add-in Express and currently I am engaged in creating HowTo samples for Outlook, Excel, Word, PowerPoint and Outlook Express.
My technical skills
Platforms: Win32, .NET
Programming languages: Languages: Delphi, VB.NET, C#
Technologies: .NET, COM/DCOM
Office object models: Outlook, Excel, Word, Visio, Access
Favorite area: programming for Outlook, Excel and Word
Other areas: Microsoft Office, Internet Explorer and Extended MAPI
Out of work occupations and hobbies:
My wife, my children, my friends :). I also like to work in my garden, especially to look after my roses and lilies.
Contact Andrei now
Have any question to Andrei, want to discuss your project or get a good piece of advice? Don't hesitate to contact him right now.