Add-in Express team - Alexander Solomenko
Alexander Solomenko
Senior WinAPI developer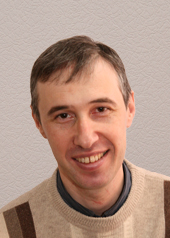 Hi! My name is Alexander Solomenko. Now I am one of Add-in Express developers. Like most of our programmers, I received higher education in one of Gomel Universities (we have 5 in the city!). By education I am an electronic engineer. After finishing my studies I worked as a senior developer in a bank for five years, after that I was engaged in retail enterprise automation. I have been at Add-in Express since 2006.
You can find my code in the following products:
My technical skills:
Platforms: .NET, Win32
Programming languages: Assembler, C#, VB.NET, Delphi, VB6, VBA, ASP.NET
DBMS: MS SQL Server from 7 to 2005
Application servers: MS IIS, MS SharePoint
Other: programming for Microsoft Office, Extended MAPI, system programming
Out of work occupations:
My favorite occupation is outdoor activities. I go in for sports, like good music and fiction.
Contact Alexander now
Have any question to Alexander, want to discuss your project or get a good piece of advice? Don't hesitate to contact him right now.