Add-in Express team - Aleksey Zhigar
Aleksey Zhigar
Senior Office developer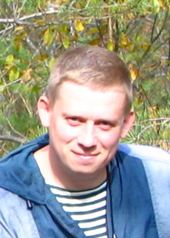 My name is Aleksey, 36 years old, a developer. Married and have two nice kids. By education I'm an electronic engineer, but worked as such for no more than couple of months. Tried programming and never regretted. Feel happy that I didn't miss the boat. :)
Now I've been in programming for 15 years. Have been watching Formula-1 for 23 years (McLaren fans, my contact form is at the bottom of this page :) I wrote in CLIPPER (how old I am!). And I am a long-time Delphi aficionado, such a pity we'll have to split soon.
BTW, did you happen to visit AbleBits.com? Some of the add-ins you'll find there are written by me.
You can find my code in the following products:
My technical skills:
Platforms: Win32, .NET
Languages: Delphi , C#, VB.NET
DBMS: SQL Server, InterBase, FireBird, dBase
Office object models: Outlook, Excel, Word, Visio, Access
Favorite area: programming for Excel, Word, and Outlook
Out of work occupations:
My family, cars, Formula-1, computers, books.
Contact Aleksey now
Have any question to Aleksey, want to discuss your project or get a good piece of advice? Don't hesitate to contact him right now.